This shop has been compensated by Collective Bias, Inc. and its advertiser. All opinions are mine alone. #TryTENAMEN #CollectiveBias
Getting older is tough. My husband is in his forties and I turned forty earlier this year. I've mentioned to him how I just don't feel as young as I did in the past. I don't have the energy, the memory, or even the motivation I once had. All of those things become irrelevant when you see a parent or grandparent truly having difficulty in their advanced age. Suddenly you feel blessed and not so ready to complain.
My grandfather's health has been declining for the past year. It's not something I often talk about but my sisters and I have been helping my mother care for him for the past ten months. He recently moved in with my mom so she can care for him full time. It's been an adjustment not only for her to have him living with her, but for him as well. He has to adjust to a new area, a new home, and being away from the people and things he knew as his "normal" daily life. Did you know November is National Caregivers Month? I thought it would be the perfect time to put together a package of things my grandfather can use and enjoy while also being a help to my mom by having some things on hand he needs.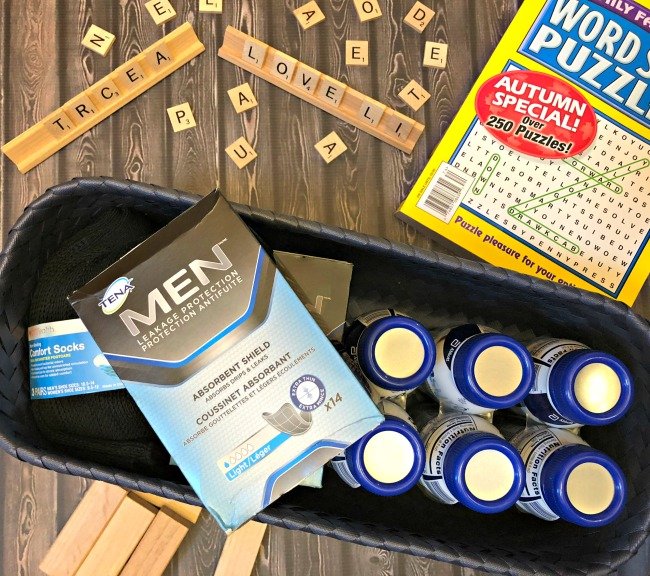 Gifting for National Caregivers Month
When I was deciding on how I could help my mom care for my grandfather I wanted to put something together to cheer them both up. My mom had recently mentioned how she's adjusted her own showing list because of my grandfather's needs. There are products he needs daily that she didn't have to worry about buying before. I wanted to make her life easier and help out so when I decided to make a gift basket my first step was to make a list of things grandpa uses regularly.
Creating a Gift Basket for a loved one
Gift baskets should be full of things not only needed, but things enjoyed! I wanted to make it a fun basket so I decided to include some of grandpa's favorite things.
Make a list of products needed.
Make a list of things he/she enjoys doing
In terms of products needed, grandpa's doctor has recommended nutritional drinks for his weight and energy loss in recent months. We make sure he drinks one daily to keep up his vitamins and minerals so I wanted to include several of these drinks.
He also uses TENA® MEN™ Protective Shields. These are ultra-thin, secure with a cup shape that follows the male anatomy for a secure fit that provides light protection for bladder leakage, which is something he's been having trouble with since he's gotten older. TENA® MEN™ protective shields have a soft, cloth-like outer cover that provides comfort and discretion and has advanced odor protection. Click on the first image in this post to purchase TENA® MEN™ protective shields!
I knew these were available at my local CVS as I've picked them up for him before so I knew that would be the perfect place to do my shopping. I was able to find everything I wanted to add to the basket in a quick trip down the street to my local CVS.
3. Find the basket/gift holder
I usually buy baskets and holders when I find ones I like because I make gift baskets often. Find the basket that fits the occasion. In this case I chose a blue basket, a bit on the manly side since it was for my grandfather.
4. Organize items to be included
You'll want to organize the items and see how they fit best in your basket of choice. You want to put the heavier items on bottom and try to organize larger items in the back. You'll want smaller items kept for the front/top of the basket.
5. Pick a bow and tie everything together!
Make it pretty! Everyone likes gifts that look nice and a bow just adds that special touch! Use a decorative ribbon to tie everything together so it's easy to transport and gift.
6. Tape smaller items so they aren't lost!
Smaller items can easily be taped to another product to prevent being lost and to help them stand out in front.
7. Present your gift!
I'm going to also take some board games that exercise the mind that I know grandpa loves along with this gift basket of products he uses regularly. It's a great way to help others with products they need and brighten days because who doesn't love getting a gift?!
What other products can you think of that would be great for easy gifting for National Caregivers Month? Have you ever bought TENA® MEN™ for a loved one? #TryTENAMEN