Do you remember those emails that used to go around all the time? The ones that were like 20 questions about you and you would answer them and email to all of your friends to let them learn new things about you?
In today's busy world sometimes we don't get to know people as well as we would like to so Eco Baby Mama Drama and I thought we would bring back a fun getting to know you weekly feature called Three Things Thursday and let you learn more about us!!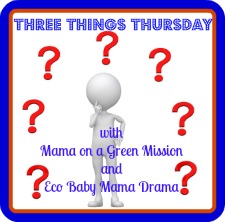 We will post three questions and give up to three answers for each question to let you learn more about us. You see many reviews from us so we want to give you the chance to learn other things about the green gals behind the reviews!
Hopefully you learn some fun facts and aren't too shocked!
Favorite Foods:
Any Tattoos:
Just one…around my belly button it's a circular vine of flowers with two butterflies on one side
Dream Jobs:
Doctor (I wanted to be a doctor since I was a small child)
Accountant (that's what my degree is in)
Stay at home mom with pay!
If you blog and decide to link up, we'd love that! Feel free to get the InLinkz code here and add it to your post!
Please feel free to share your answers as well as submit questions too! I won't guarantee we will answer them all though
If you are a blogger please feel free to post your answers and link up with us so we can get to know you better!