I love to cook. If my husband were to read this he would probably laugh since I don't do it as often as I'd like to. With my work schedule and having two little ones at home finding the time is difficult, which is why I love quick and easy dinner ideas! This week I am linking up with Full Time Mama, Coping with Frugality and Mama Chocolate to share with you a "Delicious Dish Tuesday" recipe!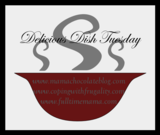 A really good friend of mine gave me this recipe and it's one of my favorites to make: homemade chicken pot pie!
The ingredients you will need are simple:
one package/can of cream of chicken soup

one piece of chicken

ready to bake rolled pie crusts (2)

frozen veggies (we use the organic gardener's blend that has green beans, corn, lima beans, carrots and peas)

one medium sized potato

seasoning (we use garlic powder and seasoning salt)
First, I had my husband grill the chicken with dinner the night before since he was already cooking on the grill. We simply put garlic powder and seasoning salt on the chicken and grill it til done.
When I was ready to prepare this meal I cut the chicken into small blocks and put it in our Baby Cook to blend it up.
After mixing the cream of chicken soup, the frozen veggies and the chicken together in a bowl, dice the potato into small pieces and add them to the bowl. Mix well.
Spread the bottom pie crust into the pie pan. Add the mixed toppings and even out with spoon.
Finally, add the top pie crust and use your hands to seal the two crusts togetherall the way around. You also want to cover the crust edges with foil to prevent burning while the inside is cooking.
Bake at 350 degrees for 25 minutes.
Pull out of the oven and brush the top of crust with butter.
Bake for 20 minutes longer, pull out of oven and take the foil off of the edges. Brush entire pie with butter.
Bake for 15 minutes longer to brown the edges. (plus or minus some time depending on how dark you like your crust)
Fresh out of the oven, our chicken pot pie is ready to eat! YUM!
Here it is cut – the inside looks fabulous, doesn't it?