TGIFFFF! Yep, I said Thank GOD it's Friday's Fabulous Fluff Feature!
It is Friday the 13th, are you feeling lucky?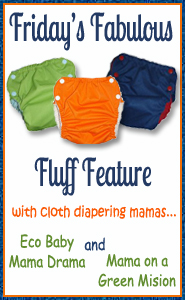 Are you feeling knowledgeable about cloth brands?
Bri from Eco Baby Mama Drama and I decided we want to have some fun this week and play the guessing game!
Below are 12 different brands of cloth diapers each with a number on them for you to guess what the brand is, you only get 1 guess so make sure you are positive before submitting your answers!
A few are made by wahm's however they have been reviewed by Bri so if you are unsure you can look through some old reviews and find the answers on her blog!
Good Luck and Have a fluffy filled Friday!
One lucky winner will get a Flip Cover with Organic Cotton Insert and Disposable Inserts!!